Book 2 Days Or More And Pay US $90 US $60 Per Day
Best view is from a paddle board!!! If you don't paddle board your missing the best view in the Caribbean. It's a must experience especially in the early peaceful mornings. Aloha has the easiest boards to maneuver. Plus Sander is a really cool dude, and I feel like I made a friend in Plya. See you next year Sander, and thank you for great boards, service, and instructions!!!!
Rent High Quality Paddleboards Or Surf Boards And Have Them Delivered To Your Resort Or Villa
(Please check with your concierge first if there is a posibility to have equipment delivered)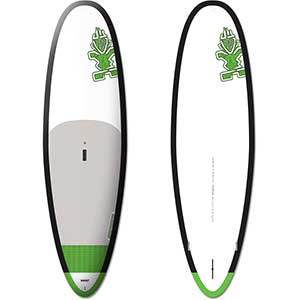 Starboard Whopper ASAP 10"
"The famous board that makes everything easy. Simply fun for the whole family."The legendary Whopper set the benchmark by being the first board to go wide at 34″, at the time it was shocking, but now it's considered the norm. The Whopper leads the way in easy, fun, performance. A board that's incredibly stable yet defies its dimensions with effortless trim and dynamic turning abilities. This is our standard board, a great allrounder and also perfect for surfing.
Starboard Avanti ASAP 11.2"
The 11'2″ x 36″ Avanti is a fun and easy glide, an incredibly stable board for heavier or multiple riders to cruise and surf. This is a great board to share with someone else or to bring your child on. The extra length and width means extra buoyancy and thus makes it perfect for persons who weigh more than 200 pounds or 95 kg's, or who feel that they might need some extra floatability.
ISLE Lotus Inflatable Yoga Paddle Board
This yoga & fitness friendly inflatable women's paddle board is designed for the active rider looking to enhance their workout. This durable board is also a good choice for all levels and provides a smooth ride time and time again. The perfect board if you plan on taking it with you to for instance lagoon Kaan Luum, or of you plan on doing yoga or fitness on the sea. We do not recommend this board for rough conditions and surfing.
Isle Megalodon 15 foot Inflatable Paddle Board
Believe it or not but this inflatable monster of a paddleboard can carry up to 7 persons (though we even made it to 9!) and is ultimate fun. it is quite the challenge to keep your balance with everyone else moving. If one goe, everyone goes. This board is great for yoga or to enjoy with the family on a calm day on the sea. For the more adventurous person we highly recommend taking it out for a surf with some of your friends. Depending on the size of your group we will deliver this board with 4 paddles.
Renting Our Equipment Is At Your Own Risk! We Need To Be Compensated For:
Reserve one or more boards for one or more days and let us know which type of boards you prefer, and we will make sure that you get the right equipment. We deliver boards for free in a radius of 20 miles/ 30 km's from Playa del Carmen. After that there will be a $35 dollar fee to be paid in cash.